La Vita Di Sposa
Our Story
First off we are sisters, who both have a major passion for everything weddings. The dress, the veil, the flowers… we love it! Both of us have stood up in and been a part of numerous weddings, and pretty much feel like we know everything there is to about them from the inside out! We truly love what we do, and at the end it feels like we have become part of our bride's family. It is such an amazing feeling to know that you are making a bride and her loved ones feel so special, and the most beautiful they have ever felt on the most important day of their life thus far, and we love every minute of it!
Christina
cvitag29@gmail.com
630-625-2734
Hairstyling special events since:
1999
Known for:
being fast and efficient, time period styling, braids
Personal wedding colors:
teal, plum,moss (peacock)
Christina favorite wedding accessory:
My brooch bouquet. I had everyone bring a brooch to my wedding shower to go into my bouquet. It was so special, and I get to look at it every day in my china cabinet.
Advice to brides:
If you are going to cry… Look up and to the left! Dries those suckers up real quick! And at your reception take your groom and go to the back of the room and just take in all that is going on. The love, the details you spent all your time and money on, and enjoy every minute of it!
Lauren
ldv23@aol.com
630-670-0352
Hairstyling special events since:
1999
Known for:
classic, elegant up dos that last into the next day
Personal wedding colors:
dusty rose, blush, and champagne
Lauren's favorite wedding accessory:
My veil! Three lengths, three layers. And my chunky rhinestone bracelet.
Advice to brides:
Always smile the day of your wedding. All eyes are on you, and there is always someone watching.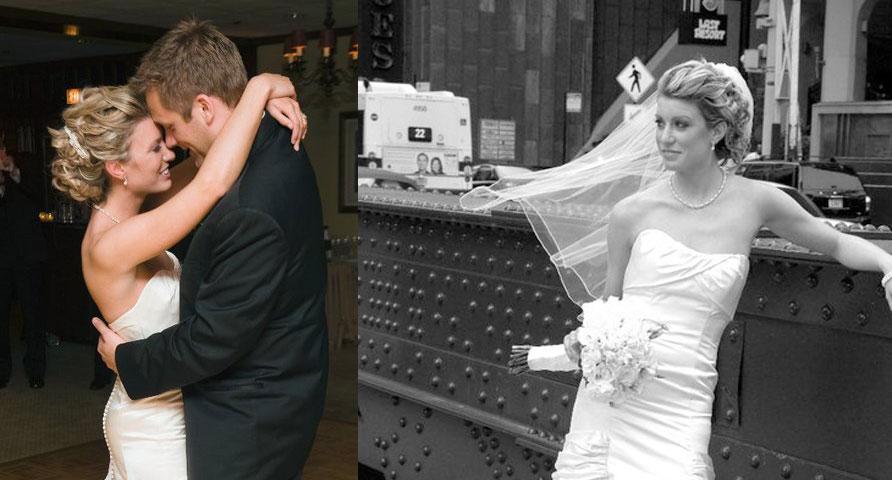 Bride & Bridesmaids Pricing
Extensions
Hair extensions are an amazing way to give the bride exactly what she is looking for the day of her wedding. Whether it is extra hair pinned into an up do to achieve a look that could not be accomplished without extra hair, clipped in for extra length and to take out the next day, or semi-permanent extensions that last about 3 months for your wedding festivities into the honeymoon. Pricing for extensions are given at consultation.
Travel
Pricing discussed at consultation
---
Gallery
---
Contact
Lauren: ldv23@aol.com
Lauren: 630-670-0352
Christina: cvitag29@gmail.com
Christina: 630-625-2734
Location: 3520 seven bridges dr. Woodridge Il 60517
Preferred Venders
MAKEUP: Julie munn
www.juliemunnmakeupartist.com
MAKEUP: Dori Mae
www.dorimaemakeup.com
MAKEUP: Jessica Meeker
JBMMAKEUP@AOL.COM
MAKEUP: Morgan Byrne
www.morganmariebeauty.com
WEDDING AND BOUDOIR PHOTOGRAPHY: Joanna smith photography.
www.joannasmithphotography.com
WEDDING PHOTOGRAPHY: Lex Alexander
www.lexalexander.com
WEDDING PHOTOGRAPHY: Melissa Zimmer
www.mzphoto.net
CUSTOM MADE VEILS: Sandras designs.
www.sandrasdesign.com
BRIDAL GOWNS AND BRIDESMAID DRESSES: Bella Bianca
www.bellabianca.com
VIDEOGRAPHY: Classic media productions
www.classicmediaproductions.com
DESTINATION WEDDING AND HONEYMOON TRAVEL: Barbara Maxwell – Heavenly Honeymoons and More
http://heavenlyhoneymoons.nexionaffiliate.com